| | | |
| --- | --- | --- |
| 7163KHZ | | 7163KHZ |

NEW MEMBER
HC5DX/WB4OZM
DAVID
CUENCA, ECUADOR
#151

NEW MEMBER
WD1M
BOB
SHELTON, CT
#152

David originally earned his Ham ticket as a Novice back in 1977, He had it for a year and because of other priorities in his life dropped it for a short period of time. He had a friend from his home town in Park Ridge NJ who texted him saying that Ebay was selling a piece of property that belonged to him, so he clicked on the link and low and behold there was his hand drawn QSL card being auctioned off on Ebay. He wrote the auctioneer who agreed to he mai the QSL card to him. The day he received that hand drawn QSL card in the mail box, it inspired him to get his General, then Extra.

He has a DXCC that he earned back in 2015, He takes pride in the fact that he once worked Australia on 160m (love 160) as well as CR2X,CF3A,CTX/DF7ZS all on 160m, Heard Is, Cu2KG, Falkland Is, Cook Is and Antarctica on 5 watts at the Tybee Beach. He also has worked Tasmania on 80m as well as Indonesia, Papua New Guinea, India, Reunion Is just to name a few.

As a kid, Bob had a passion for Broadcasting. It was all what he wanted to do. TV, Radio, RF & Audio. It's all good stuff.
His early years as a teen hanging out in Radio Stations and TV transmitter buildings have helped shape his hunger for the broadcasting business and ham radio. He started doing announcing part-time in as a teenager and and continued some limited radio announcing until 2012 for a couple radio stations in Connecticut. As a part-time announcer he spent 14 years doing Sunday mornings for WEBE 108. Other fun doing was to build a studio in his house to do production and to be able to remotely run a live radio show out of it. For a couple years, he did just that for CJMQ Radio in Québec, Canada. It's amazing what you can do with a couple IP addresses. He still keep his hand in radio announcing. He can be heard on 1400 WSTC every Saturday evening 7-11PM with his Retro-Playlist show, playing oldies and some forgotten hits.
In the big picture, he was hired at ABC Radio as Project Engineer in 1999. Assignments were to build new control rooms and support affiliates with the Starguide III roll-out. During his tenure he found himself upgrading systems, supporting all the studios and control rooms. He was promoted twice in my 9 years there becoming Systems Engineering Manager in 2008 before going to ESPN in Bristol.

ESPN is where he hung his hat from May 2008 to 2016. Some of his most enjoyable moments in the business have been spent there at ESPN and the expansion of their new Control Rooms and Studios in 2011, and being a key part in launching their own up-link to affiliate XDS Satellite Receivers. With the decline in ESPN, 250 of them were retired and laid off. More to come in 2017 I hear. For now, he runs his own show building studio, wiring them and creating custom furniture for studios and other hams.


His hobbies are quite centered on radio as well. Enjoying music is a vast part of his enjoyment as was a huge piece of his life growing up with great radio and collecting records.

He was licensed as a Novice in 1986 after being inspired by his close relative, W1JA, John Pelham. He would watch him work DX and he just had to get involved too. in 1990 he passed his Extra Class Amateur Radio test and then got his short call, WD1M. So far, two DXpeditions to Iceland. 1989 and 1990. He hopes to go back and do that again soon. He is on HF primarily on 80 to 10 Meters but sometimes go on 160 meters for contests. He is active on CW, PSK31, SSB and just started RTTY. Just recently he finished working over 100 countries on 80 meters. He needs 6 cards back and he will apply for the 5BDXCC. He can say he did it all with 100 watts and wire antenna's.


His current Shack for WD1M is a newly constructed room from a space in his basement that used to be a dirt floor and stone walls. A place that would be looked at mainly as non-usable. He challenged himself and hand dug out the basement and installed a floor, curtain drain system, and grounding system. Now he has a great place to escape to and enjoy the hobby. See his QRZ page for photos. He started the project in 2012 and completed it in 2014 on his spare time. Never say "It Can't be done"!
N7MIT'S NEW HOMEBREW 10KW AMPLIFIER (3CX3000A7 TUBE)



HC5DX-DAVD
NEW TOWER, 2 ELEMENT 40 METER BEAM AND RAINBOW
HIGH IN THE ANDES MOUNTAINS (8000Ft) OUTSIDE OF CUENCA, ECUADOR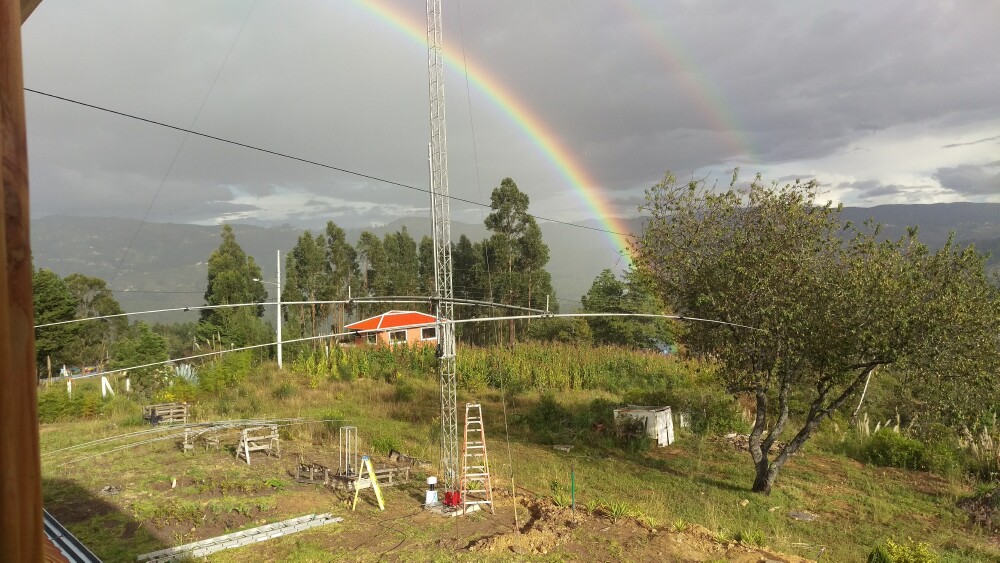 Jim, WB2REM and Gene, K5PA
WINNERS OF THE
APRIL 2017
QST COVER PLAQUE AWARD

DIY REMOTE RADIO NOW

(Click To Download The Article)
ORLANDO HAMCATION
WB2REM MEETS 7163 FRIENDS FROM COSTA RICA
(LEFT TO RIGHT- TI2JCC, TI2CC, WB2REM, KM4HI AND TI2CDA)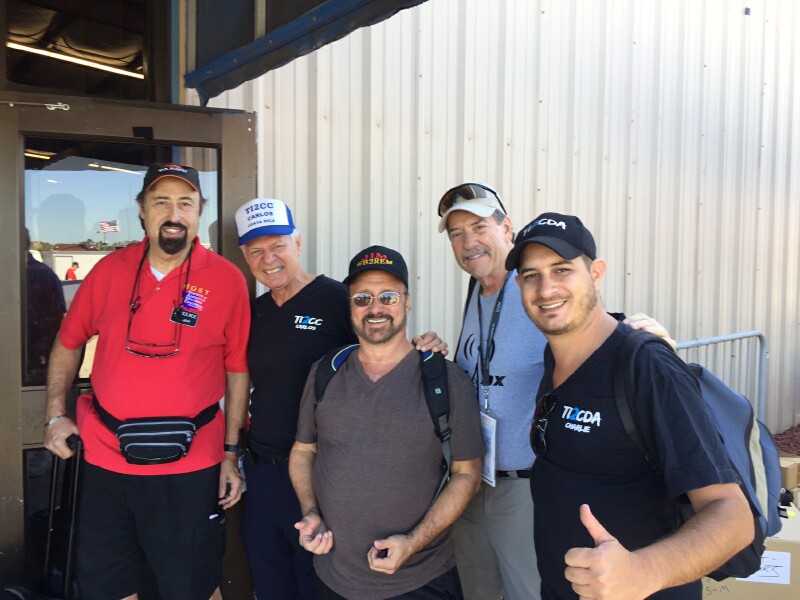 2017
4TH ANNUAL 7163 PARTY AT THE ORLANDO HAMCATION
(More Pictures To Follow)
ROCCO THE 7163 MASCOT
LISTEN TO HIM BARK THE LETTERS I, S AND H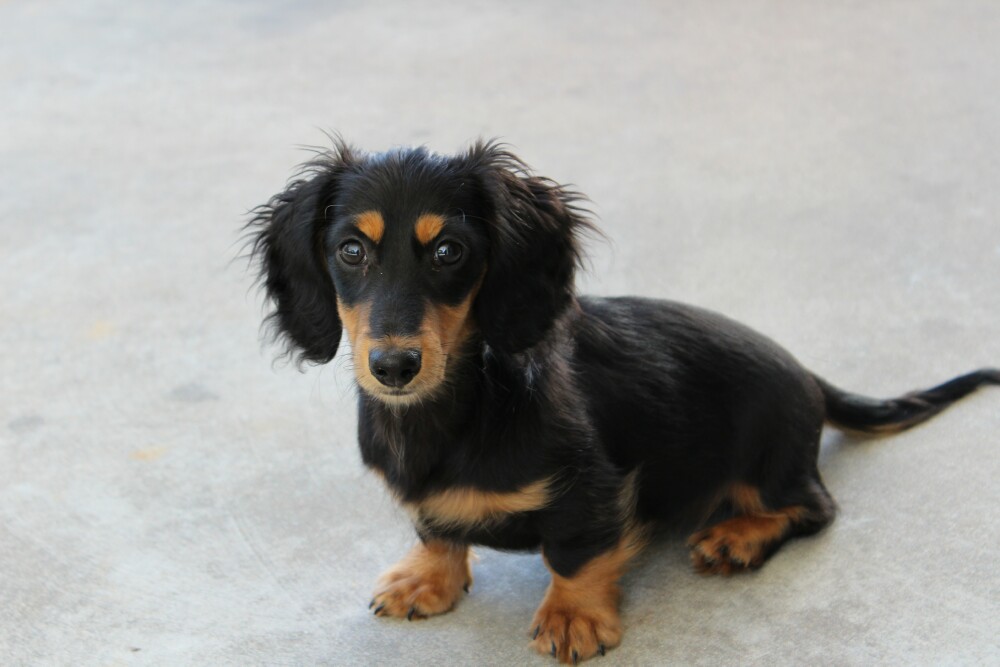 WB2REM OPERATES TI5 FROM TI5/WA8NJR'S QTH
SAN RAMON, COSTA RICA

TI5/WB2REM



ON THE SAN JUAN RIVER, NICARAGUA


KE2D-BOB, WB2REM-JIM, WA8NJR-BYRON


KG0YL-NANCY AND GLEN'S TRIP TO
AUSTRIA, HUNGARY AND GERMANY

JIM-WB2REM VISITS CUBA
OPERATES T42A AT CO2FRC
(8-1-16)


VINALES (PINAR DEL RIO REGION)

WB2REM OPERATING T42A AT THE FRC STATION

VERADERO BEACH

FRC(L-R) JUAN-CO2JD, PEDRO,FRC PRESIDENT-CO2RP, JORGE-CO2II, JIM-WB2REM, ROBERTO-CM2KL/KM2KL (FAR RIGHT)

FRC AWARD DISPLAY CASE

PARQUE CENTRAL- HAVANA

JIM, WB2REM AND ROBERTO, CM2KL IN HIS SHACK
VERADERO BEACH AMUSEMENT PARK. GOT BOB ON THE BUMPER CARS. LEFT FRONT ALBERTO, BOB'S SON
STEVE-W4SJT VISITS GENE-K5PA
AT HIS QTH IN LEANDER, TEXAS (WEST OF AUSTIN)


GENE-K5PA and STEVE-W4SJT

DUALING YAPSTERS




(L-R) GENE-K5PA,STEVE-W4SJT,
CAROLYN-AD5HP (GENE'S XYL) and TERRI-(W4SJT's XYL)



CONGRATULATIONS GENE K5PA!!!!!!
FOR MAKING THE COVER OF QEX MAGAZINE
JULY/AUGUST 2016

RADIO FREQUENCY (RF) SURGE RATINGS FOR TRANSMISSIONS INTO REACTIVE LOADS

BY K5PA- GENE HINKLE



CLICK TO DOWNLOAD THE ARTICLE (PDF)


KB2RF/Air Mobile


RICK MAKES QSO'S ON THE GROUP
ON ROUTE FROM NORTH JERSEY TO BALTIMORE
@21000FT
(5-13-16)
CE0Y/LU4DXU-HENRY
EASTER ISLAND
VISITS THE GROUP
(4-27-16)





SHACK




VERTICAL


THE BEST OF 7163 "HALL OF FAME"

T42US JOINT CUBAN/USA DX EXPEDITION TEAM
Havana, Cuba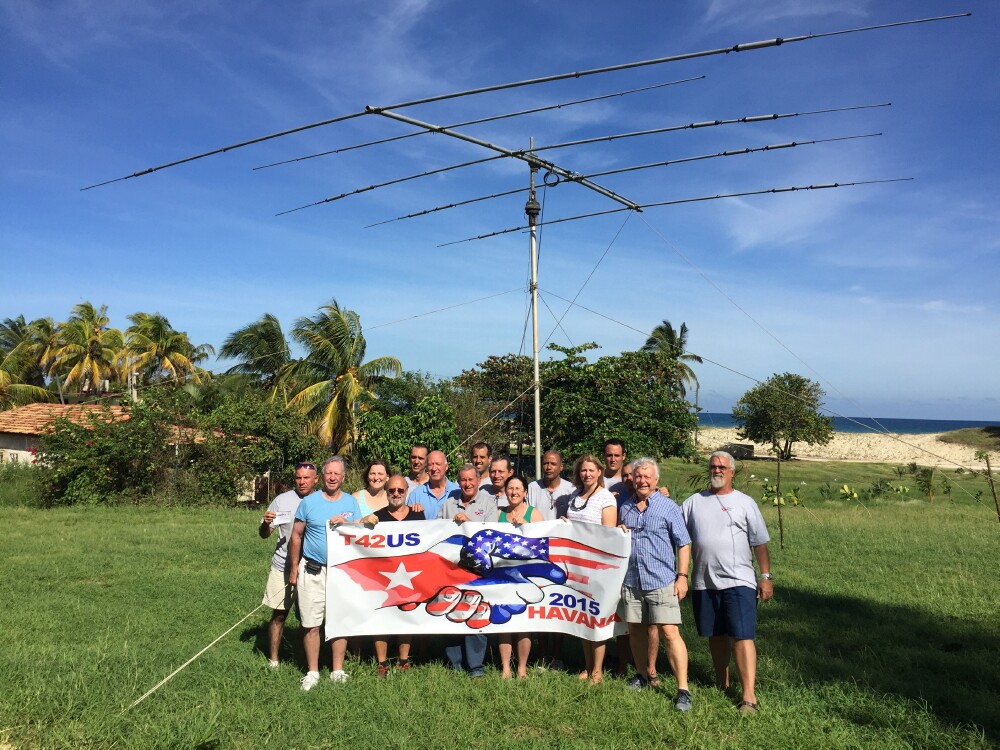 7163 Group Members (L-R Gordon-WB0TKL, Jim-WB2REM, Mark-WC3W, Mr. Rodriguez-CO2RP (FRC President), Bob-CM2KL and Nancy-K9DIG
7163 GROUP MEN/WOMAN IN BLACK
TAKE ON THE ALIENS AT UNIVERSAL STUDIOS -- ORLANDO, FL
(L-R TOP STEVE-W4SJT, GORDON-WB0TKL, DON-N7BD)
(L-R) BOTTOM NANCY-K9DIG, JODY-W4SLD, JIM-WB2REM)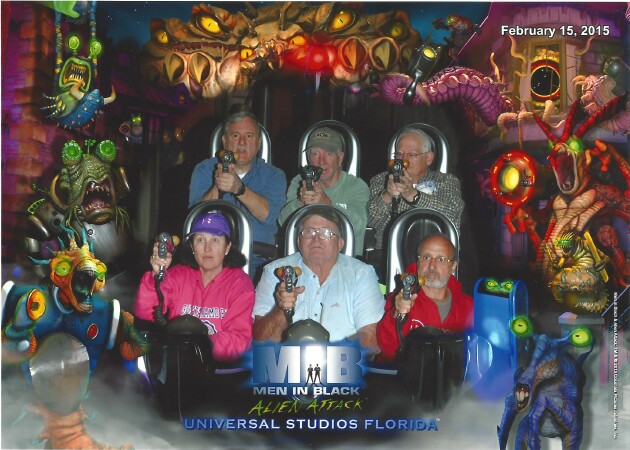 ROBERT-K5SOK "THE ALLIGATOR HUNTER"
(8-31-14)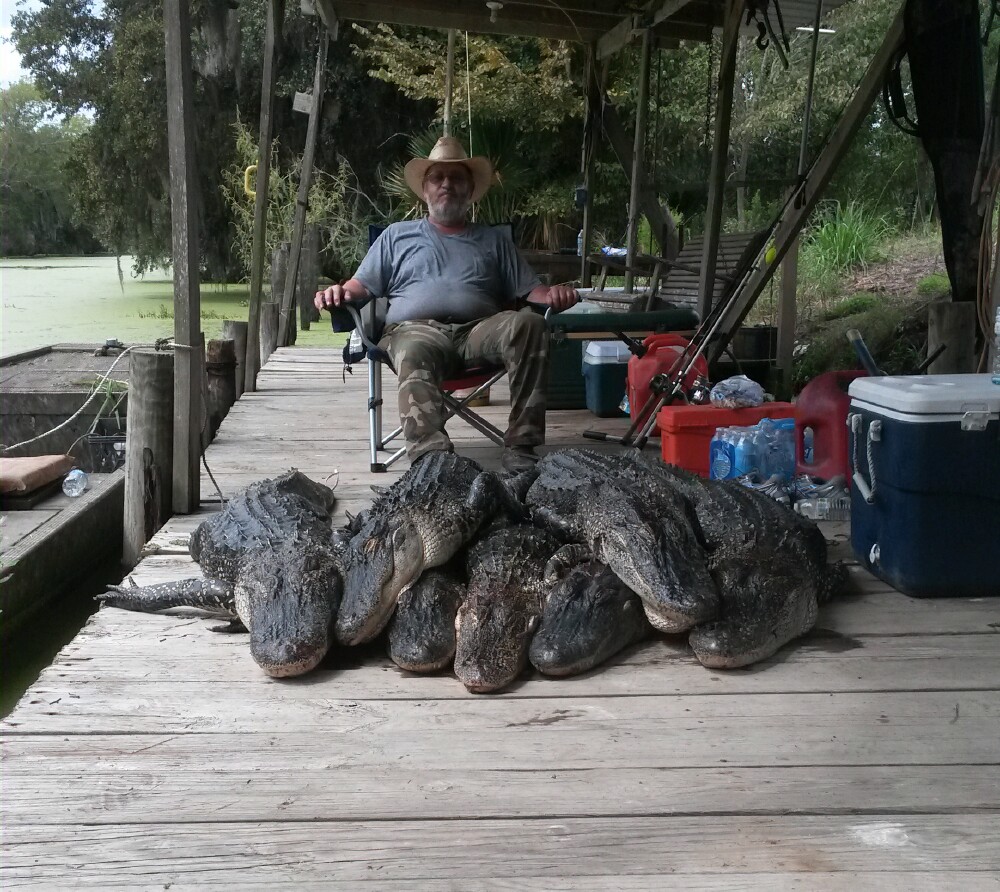 7163 ARCHIVES
7163 ARCHIVE #6 (8-21-16 to ?)
K4MT-Gary and K4MTT-Kathy OLD/NEW Station

OPERATING ON THE USS INTREPID (NYC)
(L-R) W6SFG-BRUCE, WB2REM-JIM AND WA3KEY-NORM

NANCY K9DIG'S MINNESOTA LOG CABIN RETREAT
(CLICK TO SEE FULL PHOTO GALLERY)

K5YG Bill Running 850' of Wire for an 160m Beverage Receiving Antenna

FAR EAST MEETS FAR WEST
1-9-16


Glen, Nancy and Reese
Log Cabin In The Winter
W6SFG BRUCE SUFFERS ANTENNA DOWNING FROM MASSIVE TREE FALL
(2-22-16)

KE5EE- STAN'S NEW STATION IN MOLINO, FLORIDA
(Click To See The Full Picture Gallery)


K5PA, GENE
ENJOYING HIS NEW YAPSTER HEADSET
Plus
His Stealth Backyard Vertical


7163 GROUP PARTY 2016 AT THE ORLANDO HAMCATION AND KENNEDY SPACE CENTER
(CLICK TO SEE ALL OF THE PHOTOS)
Photos Courtesy of W4GAL, K9DIG and WB2REM